Tignale-Lake and Mountain Holidays
The Port of Tignale, a narrow stretch of land with quiet beaches and little bays, the marina, an ancient hermitage, and the Pra de la Fam lemon grove. Spending a day in this place can be pleasantly surprising.
The beach is free and you can rent beds and umbrellas. It's as beautiful as the Amalfi coast. The lake bottom does not get deep right away, so it's ideal for children. There is also an area reserved for dogs.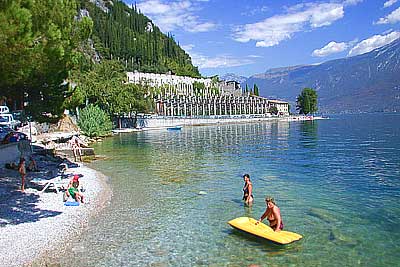 Tignale Beach Water Sports
You can take sailing classes (thanks to an agreement between the town and the Circolo Vela di Gargnano sailing club), as well as kitesurfing, windsurfing, SUP, and canoeing classes all with gear rental. For excellent fun try out the water walking balls, or flyboarding a few meters above the water thanks to powerful jets.
Walking and Other Things To Do In Tignale
If you are into trekking, there is a scenic trail that goes from the lakeshore up to the top of the cliff, on the Tignale plateau. If you like, there is a shuttle that can take you back down; it runs from June to September.
The Pra de la Fam lemon grove is in the area, a place for guided tours and tastings.
From the lake to the mountain Numerous attractions are also found inland, like the Park Museum (hosting the Velambiente exhibition until September) and the adjacent Flying Frogs adventure park, featuring fun acrobatic trails through the trees.
Every week, the tourist department organizes guided tours on foot or by mountain bike to enjoy he extraordinary land of Tignale while doing sports. There are many kinds of tours scheduled suitable for all sorts of preferences, from quiet strolls in the greenery for the whole family to the most challenging excursions, on the trails of the epristine and wild mountains surrounding the town.
Contact the Tignale tourist office for details of the Tignale Card. The Tignale Card gives discounts and offers for many of the activities and itineries in Tignale and also the shuttle bus that goes up and down the mountain. Other discounts include:
Free
Walks
Nordic Walking
Shuttle bus Porto Tignale – 06/06/2015 – 13/09/2015
Discounts
Tennis club Tignale: Discounts on tennis court hire fee
MTB/E-BIKE, Park Museum – Prabione: Discounts for rent fee
"Al Porto", Porto di Tignale: Discount on deckchairs  and umbrella
Swimming pool: 10% Discount on entrance fee
Tour in MTB : 50% off on Mountain bike excursion
Kite surf, Porto di Tignale: 20%  trial course; 10% windsurf/flyboard course;10%  SUP and canoe hire
Circolo Vela Gargnano: Discount for  lessons and boating
Limonaia Pra de la Fam: €1 discount on guided tour
Ok Surf Gargnano: Discount trial course
Garda Escursioni: Ferry from Porto Tignale – Malcesine
Parco avventura Flying Frogs, Prabione: €1 discount per ticket
Check out the full list here.
Get details at: www.tignale.org; tel:+39 0365 73354.